How To Speak To Human Beings:
Step Away From the Computer
In this age of social media, texting, twittering, and facebooking, truly inspiring conversations are becoming harder to hold. From dating to networking to elevator-pitching, too many of us squander opportunities for wisdom, wit, love and profit.
In this special presentation, Warren helps you sharpen your conversational skills by sharing tips learned through years of study and practice. He offers tips on active listening and persuasive speaking. He recounts many of his favorite all-star encounters. And he teaches you how to trust enough to embrace honest, dynamic dialogue. This lecture will help students connect with each other and how to get the most out of encounters with peers, professors, and potential professional contacts.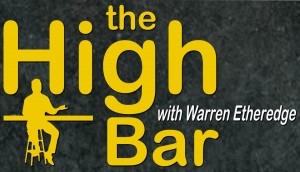 Warren Etheredge didn't speak until he was 6 years old; he's been going strong ever since, making a lively livelihood and the most out of every conversation, elevating small talk to high art, discourse to an ideal. He talks. He teaches. He interviews. He has has conducted over 1,500 interviews ― in print, on camera, on stage ― with a wide range of filmmakers, authors, personalities and smarties including Amy Sedaris, Darren Aronofsky, Michael Pollan, Charlie Kaufman, Naomi Watts, Salman Rushdie, Robert Duvall, Alexander Payne, Nora Ephron, Augusten Burroughs, Michael Lewis and Chuck Palahniuk.  He hosts The High Bar the award-winning weekly television series that airs on KBTC and UWTV devoted to "raising the bar" through light-hearted conversation with people who care about culture that matters. He is the founder of the entertainment website The Warren Report, curating and hosting over 200 events every year.  He is also one of the founding faculty of The Film School, former Curator for the 1 Reel Film Festival (at Bumbershoot), a published author, an Off-Broadway produced playwright, an acclaimed documentarian, and a regular contributor to public radio.
Specialty topics:

Warren is also sought after to give lectures and workshops for journalism programs, film programs and festivals. Among his many topics is The Art of the Interview, where you can learn how Warren prepares for interviews and how he responds to the different challenges presented by questioning folks on tape, on camera or before an audience. He also has a popular presentation for aspiring filmmakers called What's Wrong with This Picture? where Warren publicly scrutinizes student work. He will take a look at the first five minutes or so of the works offered up by brave volunteers and offer his wickedly honest and always spot-on insight, delivered with quick wit and good will toward the dedicated artists in the mix. Other topics include: It Ain't Over 'Til It's Over (marketing and distribution), How NOT To Make A Short Film, Such A Character, DO Make A Scene!, Spits & Giggles and Language For The Movies. Contact us for a list list of topics and descriptions.
The Response
"Warren is a remarkable collection of talents–he is as insightful as he is entertaining and as a quick a wit as they come."
Thomas Phillipson
Director, Northwest Filmmakers' Festival
"Warren is witty, intelligent, well-prepared, a great listener and has a wonderful sense of timing! He recently was the moderator of a panel discussion with five independent filmmakers at the Ashland Independent Film Festival and it was a great success – due in part to his professional knowledge of the subject matter, and his ability to ask the right questions to keep the discussion lively and interesting. Thanks for making us look good, Warren!"
Joanne Feinberg,
Director of Programming, Ashland Independent Film Festival
"Warren has been an integral part of the Tacoma Film Festival for several years now, and has raised the bar for our festival's events and workshops. His teaching and speaking techniques are genuine, entertaining, intelligent, and engrossing. Our audiences love the post-film Q&A's with filmmakers hosted by Warren, and his filmmaking workshop has sold out every year. Warren approaches everything with a smile, and always aims to support the goals of our organization."
Emily Alm
Tacoma Film Festival Director
"Warren Etheredge is an extraordinary interviewer — one of the best in the country.  He's incredibly prepared for each encounter — and has an uncanny ability to absorb complicated material and distill it for audiences.  He also has a terrific sense of humor that makes the interviews feel less like dutiful graduate seminars and more like a late-night talk show. Indeed, I think it's only a matter of time before some media executive wises up and gives Warren his own show."
Daniel H. Pink
author of DRIVE and A WHOLE NEW MIND
"Warren is the most knowledgeable and engaging interviewer and commentator on film that I have ever been engaged with. His insight and criticism are tempered with a keen sense of humor and irony. To be the subject of one of his filmmaking classes was both intellectually stimulating and a whole lotof fun."
James Foley
filmmaker (GLENGARRY GLEN ROSS; AT CLOSE RANGE)
"Warren Etheredge is one of the most probing and thoughtful interviewers–not to mention the wittiest!"
David Grann
author of THE LOST CITY OF Z
"As for Warren, his heart warming story of his childhood speech disorder really sunk home with our audience and was the reason why we reached our goal.  He captivated the audience and kept the event running smoothly with his charm and charisma.  He was highly reliable, spoke clearly, was very approachable, always had a smile and gave great advice on the timing and order of the showflow/event."
Erin Oest-Larsen
Larsen-Brennan Events (RiteCare WA Breakfast)
"Warren manages to pick the pockets of patrons with such confidence, wit and ease that they actually seem grateful; he is my #1 choice for master of ceremonies."
Tina Meadows
The Novel: Live!
"Warren is an engaging teacher – funny, insightful, highly opinionated.  Great class for movie-lovers, screenwriters and other movie "folk" as well.  He's a world-class interviewer and pretty savvy about human beings and psychological topics.  He'll make you think, possibly frustrate you and by class end you'll just want to hug him.  (Unsolicited endorsement of the week)."
Jeannette LeBlanc
student