A lecture/film program about South Sudan
Rebuilding Hope chronicles the homecoming to South Sudan of Gabriel Bol Deng, Garang Mayuol and Koor Garang, and their efforts to develop healthcare, clean water and education in their villages.
All three were forced to flee their homes twenty years ago as young children, when militiamen led violent attacks on their villages. They crossed South Sudan on foot, surviving disease and paralyzing hunger to reach safety in a refugee camp in Ethiopia and then Kakuma refugee camp in Kenya, before coming to the US in 2001.

In 2007, accompanied by filmmaker Jen Marlowe who was supported by the Pulitzer Center on Crisis Reporting, Gabriel Bol, Koor and Garang returned to Sudan to seek their families and help their communities. Questions about the conditions they found and the status of the Comprehensive Peace Agreement (CPA) lead them to speak with state ministers of health and education as well as the Secretary General of the Sudan People's Liberation Movement and the President of South Sudan. They returned to the refugee camp in Kenya where they had lived for nine years, visiting their former school and talking to refugees about whether or not they intend to return home to Sudan.

Along the way, they assessed the hopes, dreams and fears of the Southern Sudanese people nearly three years after the signing of the CPA, and explored the connections between the conflict in South Sudan to conflicts in other parts of Sudan, including Darfur, probing the larger questions of identity and ethnicity in Sudan. Rebuilding Hope is a powerful record of Gabriel Bol, Koor and Garang's quest to find surviving family-members and rediscover and contribute to their homeland. All proceeds from the film go to support the health care and education projects initiated by the three young men. Rebuilding Hope has received rave reviews at festivals worldwide, and aired on KCTS in December 2011.
For the lecture one or more of the Rebuilding Hope team will present a comprehensive look at the crisis in Sudan, its historical roots, and human cost—as well as the connection between South Sudan and the crisis in Darfur. Incorporating excerpts from the film they will bring the audience up to date on the individual stories and the current situation in Sudan. Since the film's premiere in 2009, South Sudan became an independent state on 9 July 2011, but human rights abuses and widespread hunger continue to make this a volatile region.  Inspirational and informative, the program will conclude with a call to action and the message that individual activists can make a difference.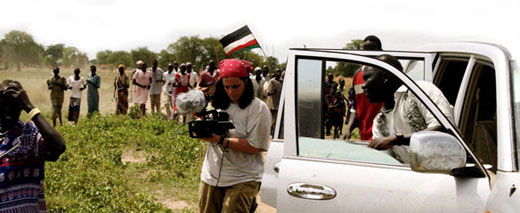 Jen Marlowe has spoken at dozens of universities, schools, community groups, congregations, and film festivals about the situation in Darfur and South Sudan, including Harvard, Princeton, Yale, Brown, Dartmouth and Cornell. She has nearly a decade of experience in peace-building and conflict resolution in locations such as Bosnia-Herzegovina, Palestine, Israel, Afghanistan, India, Pakistan and Cyprus. As part of a three-person team, she traveled to Northern Darfur and Eastern Chad to make the documentary film Darfur Diaries: Message from Home and wrote the accompanying book. She is a founding member of the "Rachel's Words" initiative. Jen is the playwright of There is a Field and the co-author of The Hour of Sunlight, both addressing the situation in Palestine and Israel.  Her writing can be found online at The Nation, Alternet and Counterpunch.
Koor Garang lives in Tucson, AZ. He finished his coursework to become a Licensed Practical Nurse and is continuing with his Associates Degree and hopes to become an RN. Koor raised thousands of dollars to bring medical supplies and treated mosquito nets on his homecoming trip; now he is trying to raise funds to return to South Sudan to provide training to nurses working in a newly built clinic in Akon.
Gabriel Bol Deng lives in Syracuse, NY. He graduated from Le Moyne College with a Bachelors in math education and philosophy in May 2007. Gabriel received the 2006 Distinguished Student Teacher of the Year and the 2007 Le Moyne College Social Justice Awards. Deng has founded the non-profit organization 'HOPE for Ariang' in order to help his village build, maintain and support a primary school. He is pursuing Masters Degree in Education at Le Moyne College. Currently, Gabriel tutors mathematics at a high school in Syracuse.
Garang Mayuol lives in Wheaton, IL. He received his Associates Degree in May and is continuing his studies in order to receive a degree in business management. On his trip home, Garang realized that a clean water system in his village is a critical step towards preventing cholera and other water-borne diseases. He plans to raise money to build a system of water pumps in his village.
For more information on Rebuilding Hope, visit rebuildinghopesudan.org
The Response
"Rebuilding Hope is an amazing film. It is a deeply moving study in loss and suffering, in courage, in wisdom about the meaning of Life as Humans that seems as old as the continent of Africa. I was overwhelmed with gratitude to see such determination to be of service to the group. I cried many times, witnessing the truth that love is at the root of all things dedicated to health and wholeness. Though sadness sometimes threatens to overtake us, we are reminded, watching this film, of the essential requirements for living a happy life. "The Lost Boys of Africa" have found a way to show us something we in the West might never have known or even guessed. A remarkable teaching."
Alice Walker
"It was great to bring Rebuilding Hope to Northwestern's campus, especially to have Garang Mayuol with us to share his story! The screening was quite a success — there was a heartfelt response from both the Northwestern and Evanston communities, who expressed appreciation for the film's power through the stories it told. We hope to have more events like it in the future!"
Sarah Freeman
Student, International Studies
Northwestern University
"Rebuilding Hope is a riveting and moving portrait of three young men's journey back home to Sudan and the underlying challenges to peace in contemporary Sudan. Multiply the anguish in these three stories by hundreds of thousands and the viewer will begin to have a glimmer of understanding of the magnitude of Sudan's wars and their impact on the lives of millions of Sudanese. Through the prism of these three individuals, filmmaker Jen Marlowe provides an essential, human window into the fragility of Sudan's southern peace."
Leslie Lefkow
Senior Researcher
Human Rights Watch