Author, Cambodian Landmine Activist
Loung is a survivor of the killing fields of Cambodia, one of the bloodiest episodes of the twentieth century.
She was five years old when the Khmer Rouge invaded Phnom Penh. Over the next three years, Loung lost half of her family, including both parents, and spent time in a camp for child soldiers. After the war was over, she and her older brother relocated to Vermont, where she grew to adulthood. Today she is an internationally best-selling author and a well-known human rights activist.
Loung was inspired to tell her story and help Cambodia heal. Her award-winning book First They Killed My Father: A Daughter of Cambodia Remembers tells the story of her struggle to survive. It is a national bestseller and has been published in eleven countries. First They Killed My Father won the ALAPA award for "Excellence in Adult Non-fiction Literature" in 2001 and was selected by the ALA as a 'Best Book for Young Adults'. Lucky Child, her second book, tells the story of her years in America and the sister she left behind. Both works are used in college and community reading programs. Loung's third book, Lulu in the Sky: a Daughter of Cambodia Finds Love, Healing, and Double Happiness, was published in April 2012. Loung has dedicated her life to promoting equality, human rights, and justice in her native land and worldwide.
First They Killed My Father: An eyewitness account of the Cambodian Genocide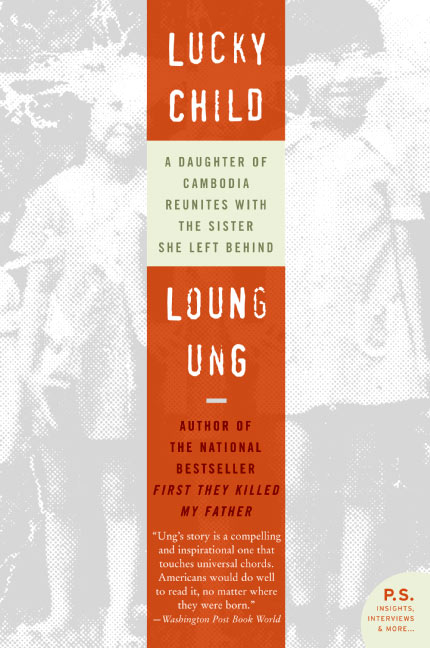 One of seven children of a high-ranking governmental official, Loung Ung lived a privileged life in the Cambodian capital of Phnom Penh until the age of five. Then Pol Pot's Khmer Rouge army stormed into the city, forcing her family to flee and, eventually, disperse. Loung was trained as a child soldier in a work camp for orphans, her siblings were sent to labor camps, and those who survived the horrors would not be reunited until the Khmer Rouge was destroyed. Harrowing, yet hopeful, Loung's story is an unforgettable account of a family shaken and shattered, yet miraculously sustained by courage and love in the face of unspeakable brutality. With a fluency of language and a writer's understanding of story telling, Loung wraps her personal story in history and politics. Chapter by chapter, Loung walks her audience through the most horrific events of her life—separations, starvation, rage, heartbreaks, loss— and shares how she came out of them with her love, humor, and spirituality in tact. Those who expect to see a victim broken from her ordeals will be surprised by the vibrant, colorful, funny, and lively woman standing before them, and they will leave inspired to take action.
Leaders Are Made, Not Born
R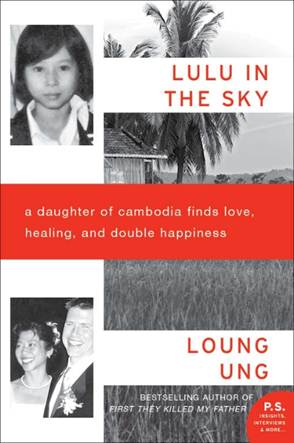 aised in a Chinese-Cambodian culture where women were seldom seen and rarely heard, Loung finds joy and success in being 'loud' and 'proud'. In Leaders are Made, Loung shares her childhood story, her external and internal battles, and five lessons gathered from many life-times of experiences on how leaders are made and not born in America. Funny, fast-talking, dynamic, and real, Loung shows that one can succeed even when one is height-challenged, lacks physical 'gravitas', and likes to eat rice three times a day. The audience will be moved, entertained, and challenged to take leadership roles in their own lives.
Wars End, Landmines Don't
From 1975-1979—through execution, starvation, disease, and forced labor—the Khmer Rouge systematically killed an estimated two million Cambodians, almost a fourth of the country's population. Loung Ung was a child survivor of that 'Killing Fields' and emigrated to the U.S. at age ten. In 1995, she returned to Cambodia and saw that thousands of the survivors of the Khmer Rouge genocide were being maimed, injured, and killed by a new threat—antipersonnel landmines. Littered by the millions in Cambodia's fragile land, these landmines, often not larger than a hockey puck, are weapons of mass destruction in slow motion, taking one limb, one leg, one life at a time. Loung has committed herself to helping the victims and ridding the world of landmines. Her devotion to this cause has been recognized by many high profile people and groups, including Amnesty International U.S., which in 2003 asked her to present their Lifetime Achievement Award to Sir Paul McCartney. Loung combines video footage with hard facts about the devastation caused by landmines. She tells a story of love, loss, survivor's guilt, and finding redemption through activism. Her life is a testimonial that 'activism matters' and will inspire others to seek out ways they too can make a difference.
From Hate to Health: A child of war becomes a woman of peace
At five years old, the soldiers stormed into her city with guns and forced her out of her home. At seven, the soldiers came for her father and she never saw him alive again. At eight, the soldiers came again, this time for her mother and four-year-old sister. By nine, she had been trained as a child soldier to hate, hurt, and kill. A year later, she arrived as a refugee in America with her adult brother and sister-in-law and was expected to rebuild her life with little support and understanding of the war that she had just survived. How did a child of war become a woman of peace? From Hate to Health explores on Loung Ung's healing journey. With her indomitable spirit and 'attitude of gratitude', Loung introduces the audience to a kind hearted school nurses who helped her heal, and the traditional counseling sessions that didn't; the flashes of irrational anger when called 'Suzy Wong' by an elderly gentleman; the books that gave her strength to go on when she contemplated ending her life; and the discovery of writing and activism what saved not only her life but her soul.
The Response
"I encourage everyone to read Lucky Child, a deeply moving and very important book. Equal to the strength of the book is the woman who wrote it."
Angelina Jolie
actor and UNHCR Goodwill Ambassador
"Loung mesmerized the crowd again this year, as she does every time she returns to Saint Michael's. Her presence, her voice, her intelligence, and her stories gave us shivers of pride and love. We are already talking about when to have her back, and can't wait for her next book. She is our shining star."
 Elizabeth Inness-Brown
Director, Writing Center
Saint Michael's College
"Throughout her visit to Hawken School, Loung Ung's presence riveted our students. Speaking before our entire school community, she had the undivided attention of the room throughout her remarks on justice, compassion, strength and making the world a stronger place. In small groups and classroom visits, she brought that same intensity to each conversation, earning the respect and admiration of all she encountered. Truly one of the most memorable author visits we've ever had."
Cris Harris
Writing Center Director
Hawken School
"Loung Ung's visit at Fisher College was inspiring.  Her words were eloquent and powerful to the campus community who heard her story as a young child in Cambodia as well as her struggles and triumphs in her efforts to come to America.  The concept of the "American Dream" was put into perspective and made a powerful statement to our students.  Individuals who were unaware of the genocide in Cambodia have learned through the eyes of a young child and a woman who has made a commitment to speak on behalf of those who have passed.  After Loung Ung's visit, there was such buzz around campus and those were able to spread the word about Cambodia."
Kristen Dvorsky
Events Coordinator, Office of Student Activities
Fisher College
"Our visit with Loung Ung was outstanding.  Ms. Ung was personable, engaging, and thoughtful and her interactions with my students was tremendously touching and authentic.  The evening presentation brought in a full house (on a weeknight!) and the audience hung on her every word – you could have heard a pin drop.  I would strongly recommend a visit by Ms. Ung – the impact she had on us as a school and as individuals was deep and moving."
Aya Murata
Advisor to Asian and Asian American Student
Phillips Academy
"Of all the talks given by guest speakers at Andover, Loung Ung's was the most powerful. The Khmer Rouge genocide is a significant tragedy that many people are still unfamiliar with and there is nobody who could have shared its stories better than Ung. She shared stories of her struggles during and after the rule of the Khmer Rouge. Ung also presented both the direct and indirect impact of the genocide to Cambodians today (particularly of the danger of the land mines that were planted during the time). Like her book, Ung's speech was passionate and moving. When Loung Ung started speaking, the whole auditorium turned silent – everyone was captivated and many were in tears."
Yuni Sumawijaya '12
Vice-President of Asian Society
Phillips Academy
"When we read about genocide, it is often from an impersonal perspective. We list numbers – 2 million in Cambodia, 1 million in Rwanda – without giving much thought to what those mean. Further, once the genocide is over, we quickly forget. We know about Cambodia from 1975 to 1979, but not before or after. We know about Rwanda in the spring of 1994, but fail to understand the country as it was even a year later. Loung Ung, though, helped the Phillips Academy community transcend these impersonal boundaries and come to understand genocide as what it is: a personal tragedy. Through the stories of her family before, during, and after the genocide, she imbued all who listened with a deeply personal connection to her tragedy, a connection that one can only hope will translate into action."

Matthew Lloyd-Thomas '12
Co-President of STAND
Phillips Academy

"Loung's voice is powerful! She was able to remind us of our common humanity while appreciating cultural differences that make us unique. She focused on the role of biography in shaping who and what we are – but not allowing it to limit our vision of ourselves or each other. Her message inspired our clinicians to better understand the perspective of those whom we serve."
Shed Boren, PhD
Administrator / CEO
Sister Emmanuel Hospital
"Loung Ung was animated, humorous, and poignant in her lecture.  She invited the audience into her past, without asking for sympathy.  The Southeast Asian Alliance (at Smith College) was very pleased with the audience interest before and after the event, receiving positive feedback and questions about activism and genocide prevention.  We greatly enjoyed her presence, and encourage all academics to hear Loung's story."
Veronica Tjioe
Conference Chair, Southeast Asian Alliance
Smith College
"Loung came to speak to a large group of Cathay Pacific Airways North American and Hong Kong based managers in Vancouver. She delivered a powerful, moving and yet very human story. People watched in total rapt attention, many with tears in their eyes. To this day many still talk about the event and the impact she made. Loung is not just an inspiring and powerful speaker; she also comes across as so totally genuine. She manages to mix emotion and a compelling story with great enthusiasm. Her infectious charm and sense of fun is so much part of the experience. Once you have heard Loung speak, you are captivated, drawn in and left feeling good and wanting to do something positive with your life."
Tom Wright
General Manager, India, Middle East, Africa & Pakistan
Cathay Pacific
"Loung was not only an outstanding speaker but also extremely skilled in shaping her passion and commitment to the theme of Seattle Human Rights Day. The audience was riveted to their seats during her presentation and there were few dry eyes in the house. We are still receiving heartfelt thanks and comments from both the Khmer community and the general public. On behalf of us here at the Seattle Office for Civil Rights, thank you for helping to make this event one of our best ever."
Germaine W. Covington
Director
Seattle Office of Civil Rights
"The 'All Johnson County Reads the Same Book' planning committee selected Loung Ung's First They Killed My Father for its community read. It was an outstanding decision… The project culminated in a University of Iowa lecture in which Loung received a standing ovation from an audience of over 500 who were captured by the substance of the subject matter and her passion for social justice."
Chivy Sok
Deputy Director
University of Iowa Center for Human Rights
"Loung Ung is a rare and remarkable speaker. As a survivor of the Cambodian Killing Fields, Loung takes her audience into a world of unspeakable suffering, heartbreaking loss, and unimaginable hardship. Yet, it is not these things that remain with you after you have heard her speak. What stays with you is Loung's voice. A voice of strength, kindness, and most of all, of incandescent hope. A voice that boldly empowers us to put down whatever hardship we might have endured and forge ahead to create the world we all would like to
see."
Gail Straub
Co-founder and Executive Director
The Empowerment Institute
"Loung Ung gives a face and voice to a topic that could otherwise be almost inaccessible due its great sadness and weight: the topic of war and genocide. Ms. Ung has the compassion and spirit necessary to connect with audiences that might otherwise be overwhelmed by the menace and malice of history. Her story, as tragic as it might be, fills the listener with a sense of hope, direction, and purpose. Whereas her subject matter is as difficult and challenging as it gets, Loung Ung's presence is a straightforward testimony of human strength and the possibility of good rising from evil."
Dan Scheibe
Assistant Head of School
Middlesex School
"Outstanding!  She connected with students, staff and parents.  Her sense of social justice and humanity have touched the minds, hearts and souls of our community.  Although she is now gone, her influence will continue to resonate for many people.  On a pragmatic level, her experience as a survivor and a humanitarian have provided us with insights and shifts that will shape the way we think about and support service learning for our students in our school."
Mark R. Boyer
Assistant Superintendent for Learning
Singapore American School