The Survival Generation
What does it mean to be a Survivor of a Survivor?
We are ALL surviving something more or less traumatic. But when Leah Warshawski was growing up, she didn't really notice the signs at first. Not realizing that in the shadows of her family lives a survival story that is only now revealing its true darkness and complicated side-effects in everyday life.
Sonia Warshawski was a teenager when she lost most of her family in the Holocaust, barely surviving herself. Sonia's story of survival is traumatic and miraculous, and she's the only living survivor in the Kansas City area who speaks regularly in public about her wartime experience. She survived 3 death camps and 2 death marches, only to be shot through her chest on the day of liberation – the bullet missed her heart by one centimeter. Today, 90-year-old Sonia drives herself to work 6 days a week at her late husband's tailor shop, John's Tailoring,in suburban Kansas City. But customers don't always come to the shop for tailoring – they come for their own redemption, to meet a "National Treasure" and to be in Sonia's presence when she holds court.
Within the last 10 years, Sonia began to tell her story as a witness in hopes that younger generations will learn from the past to make the world better for the future. As one of the last survivors of the Nazi Holocaust, Sonia is passing her legacy on by describing her tragic and horrific past, and begging people to be better.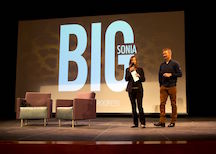 When Leah began to make a documentary about her tiny, spunky, grandmother, she discovered complexities, pressures, and burdens within her family story that aren't unique to Holocaust survivors. Making the film BIG SONIA was the most time Leah has ever spent with her family and her instincts told her that there was trauma and relatable themes beneath the surface of Sonia's shiny exterior. Everyone has gone through challenges and trauma in their lives and by sharing Sonia's story – and the diverse experiences of her children – Leah hopes audiences will relate these lessons to their own lives and reflect on an important question – "Will you let your past define your present?"
About the Speaker
Leah Warshawski is a Seattle-based filmmaker and "3rd generation" Holocaust survivor. She began her career in the film industry in college, working in the marine department for major motion pictures and TV shows including BAYWATCH, LOST, and HAWAII. Her career has taken her to more than 35 countries but the farther she goes, the more clarity she finds about the meaning of "home".
Leah's first feature documentary, FINDING HILLYWOOD (2013), has been screened at more than 70 film festivals and won 6 awards. She is the founder of rwandafilm.org, a "LinkedIn" for Rwandan filmmakers, in partnership with Bpeace and The Academy of Motion Pictures.
The Response
"Leah is a terrific teller of real-life stories, of finding the essential parts and bringing them out, with obvious care for both the film subjects and audiences alike."
Beth Barret
Director of Programming
Seattle International Film Festival
"Leah Warshawski is a tour de force of nature. Her global experience doing documentary work is impressive, and she her knowledge of promotions, social media, fundraising, and storytelling highly sought after. Warshawski also has the gift of humor, insight and intellect. She sees her cinematic work on so many levels, celebrating underdogs, survivors, ethnic minorities, and global do-ers. She is a fascinating speaker, teacher, and advisor."
Pamela Lavitt
Director
Cultural Arts & Seattle Jewish Film Festival
"We had the opportunity to screen "Finding Hillywood" and host Leah Warshawski at one of our advanced teacher seminars. Leah was thoughtful and engaging, providing great insight into Rwanda and dealing with the aftermath of genocide."
Ilana Cone Kennedy
Director of Education
Holocaust Center for Humanity
"Leah Warshawski and her grandmother, Sonia, walked through my classroom door and not only changed my life but the lives of my students. It was a gift, but also a responsibility to bear witness to their story. Leah Warshawski's warmth and gift for storytelling commands a room. Even a room full of fourteen year olds sat quietly enthralled as she retold her grandmother's story through discussion and film. Her creativity and vision are truly unique."
Jennifer Tavernaro
Middle School Teacher
"Leah is an intelligent, passionate and sensitive storyteller who speaks from the heart. Audiences are sure to be inspired by her work to carry on her grandmother's life's work of increasing human compassion and understanding."
Ryan Davis
Smarthouse Creative