Things I Want to Punch in the Face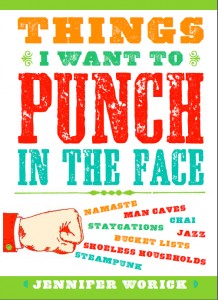 Lumbersexuals. Bucket Lists.
Twenty-minute coffee prep.
People who hog the sidewalk. Passwords.
Jen wanted to punch them all.
See, Jennifer Worick had a really bad week. Gutted by a string of unfortunate events—including a breakup, the death of a pet, the cancellation of a huge book project, and surgery—she was on her last nerve. Pretty much everything and everyone annoyed her or triggered tears. That's when she decided to turn her frown upside down. She created Things I Want to Punch in the Face — a blog, a book, and now a lecture that uses her signature cheeky humor to diffuse her frustrations. College students will find their stress levels ebbing as they learn coping tools and hear about all the things that chap Jen's hide on a daily basis.
Students will get scores of helpful tips, skills and techniques to cope with the stress of college, including:
•  Communication tools for the classroom and the residence hall
•  Breathing techniques to reduce stress and lower heart rate
•  Calming mantras and meditation skills to adopt for college and for life
•  Responses to stick in your back pocket for challenging social situations
The program—thoroughly customized to the needs and requests of each school—incorporates an interactive dialogue as Jennifer gets members of the audience to share their own stress scenarios and situations, from blanking on an important exam to being pressured with drugs, alcohol, or sex. This is an honest, hilarious talk that will keep students laughing, talking, and most importantly, coping long after they leave the auditorium.
Everything You [Really] Need to Know about Dating, Sex & College
The Worst-Case Scenario Survival Handbook Lecture/Slide Program With New York Times best-selling author Jennifer Worick.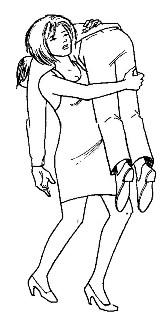 Jennifer Worick has interviewed therapists, CIA and FBI agents, stuntwomen, dating coaches, doctors,and university administrators to bring you the funniest stories and advice about dating, sex and college. Better yet, she offers solutions for the challenges that can derail even the luckiest, smartest college student. Whether you're trolling for dates at the campus watering hole or dating the same person since the 7th grade, this lecture offers a little something for everyone, touching on dating disasters, bedroom bungles, academic survival, and even stadium riots.
During this fun and informative lecture, you'll learn loads of helpful tips and skills, including how to:
Reform a bad kisser
Pull an all-nighter
Cope with a drunk date
Deal with smelly, noisy, messy, and psycho roommates
The program—customized to the needs of each school—incorporates an interactive dialogue as Jennifer gets members of the audience to share pick-up lines, break-up lines, excuses and real—life worst-case scenarios. This is the frank, funny talk that Jennifer wishes she had been able to attend in college.
About Jennifer Worick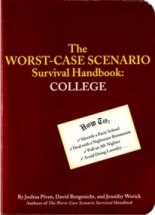 Jennifer Worick is an experienced public speaker who has appeared at over 25 schools with her college and dating tips. She is the author of more than 20 books, and is coauthor of the New York Times best-selling The Worst-Case Scenario Survival Handbook: Dating & Sex and The Worst-Case Scenario Survival Handbook: College. Other books Jennifer has authored or co-authored include The Action Heroine's Handbook, The Prairie Girl's Guide to Life, Nancy Drew's Guide to Life, The Stuntwoman's Workout, Get Your Dating Game On, How To Live With A Man…And Love It!, and Beyond the Family Tree: A 21st-Century Guide to Exploring Your Roots & Creating Connections. She has appeared on The Today Show, ABC's World News Now, NPR's All Things Considered, and been interviewed for Cosmopolitan, Allure, Seventeen, the Los Angeles Times, The Detroit Free Press, the New York Post, USA Today Weekend magazine, Teen People, Men's Health, and the Washington Post, among others. She can always be counted on to provide an insightful, inspiring, and/or side-splitting point of view.
Things I Want to Punch in the Face © 2012 by Jennifer Worick. Published by Prospect Park Books
Worst-Case Scenario and Worst-Case Scenario Survival Handbook™ are trademarks of Quirk Productions, Inc. All rights reserved. Line drawings from "The Worst-Case Scenario Survival Handbooks: Dating & Sex," © 2002, and "College," © 2004 by Quirk Productions, Inc. published by Chronicle Books, LLC.
The Response
"Anger is like an essential vitamin and Jen has given me even more reasons to be angry. I couldn't be happier or healthier."
Lewis Black
comedian, actor, author,
contributor to The Daily Show with Jon Stewart
"In these days that are stressful and fraught with harsh times, we need to laugh, release a little steam. We'd all agree that there is a heck of a lot that rolls our eyes. Jennifer Worick has finally called "bullsh-t," "enough already," and "come on, now" (and anything else you'd like to insert…) on those things in pop culture and our everyday lives that we all notice, too. Jennifer does it with a fast wit and realism that just makes you feel better, even though you didn't say the words yourself.
For example, on Jen's TIWTPITF Facebook page, when I saw Jen talk about those little family stickers on the back of vans (punching them in the face), I immediately felt just a little better that SOMEONE finally said something about it… even though I have a family, and I'm a former minivan owner (but I never had one of those stickers). Yes, justice was done here!
I have seen Jennifer speak in front of a college audience and I can safely say that her live presentations are as funny and engaging as her writing."
Ellen Bremen
Communication Studies Professor,
Highline Community College
"Finally! All those little annoyances like spoilers on facebook and worn out memes seem to be only annoying us while our friends laugh and laugh. NO MORE! Jennifer Worick has delivered unto us a great book that justifies our need to punch Blue Man Group in the face along with platform shoes and those family stickers on the back of the van (WE GOT IT. YOU HAVE A FAMILY. WE DON'T CARE.)
If you are annoyed by pop culture trends and the smugness that goes along with it, this is the book for you. These are what you give your friends to also drop the hint that when they tell their partner on Facebook "OMG I LOVE YOU SO MUCH" it's annoying."
Ryan McRae
Amazon.com reviewer
"In the all-too-serious and delicate world of dating and sex, "The Worst-Case Scenario Survival Handbook: Dating & Sex" provides respite and levity"
Los Angeles Times
"Hilarious but ultra-helpful!."
Detroit Free Press
"Never leave home without "The Worst-Case Scenario Survival Handbook: Dating & Sex," a bible for the vain, immature, horny American in all of us."
The Washington Post
"Filled with cheeky but practical solutions to just about any problem a college student could face…["The Worst-Case Scenario Survival Handbook: College"] is a handy reference to have while at college, and would make useful required reading for first-year students."
Publishers Weekly