Reflections on Resistance:
Israel/Palestine, Sudan, Bahrain and Death Row
Jen Marlowe is an award-winning documentary filmmaker, author, playwright and human rights activist. Through film, writing, theatre and other artistic platforms, Jen seeks to share the resilience and courage of those who have been marginalized and oppressed and are choosing resistance with nonviolence, humanity and dignity.
From Sudan, where she made the films Darfur Diaries and Rebuilding Hope to Palestine/Israel, where she made the film One Family in Gaza and wrote the book The Hour of Sunlight, to the Kingdom of Bahrain, where she documented the Arab Spring, to death row here in the United States, where she worked to prevent the execution of Troy Davis, an innocent man executed by the state of Georgia, Jen brings us film footage and stories of heroic individuals she has met in some of the most devastated places on earth, and shares their struggle to be heard.
Bahrain: The Uncovered Arab Spring
In July 2012, human rights activist and documentary filmmaker Jen Marlowe traveled to the small Gulf Kingdom of Bahrain with Witness Bahrain in order to clandestinely observe, document, and expose the continued repression against Bahrain's Arab Spring.  In a multimedia presentation, Marlowe discusses the stories she documented in her three weeks there, including: nurses treating injured protestors at underground clinics; updates from the doctors who were arrested and tortured under fabricated charges; the family of a fourteen-year old boy killed by a teargas canister shot to the back of his head, an eleven-year old boy who was arrested while playing soccer with his friends and jailed for a month; Bahrainis whose homes had just been raided and family members arrested in an alarming upsurge of nighttime house-raids; youth on the streets clashing daily with riot police.  Marlowe also conducted the final interview with human rights defender Nabeel Rajab before he was taken to prison for three months because of a tweet that he sent, surreptitiously filming the arrest itself, as well.  (Rajab's prison sentence was later extended to two years. He remains behind bars.) Marlowe's talk explores the central role women have played in Bahrain's Arab Spring, and will also examine the overly simplistic "Shi'a versus Sunni" analysis that has been used to characterize the Bahrain uprising. Throughout, Marlowe highlights the inspirational Bahraini pro-democracy and human rights activists, who continue their struggle for democracy and freedom at great personal risk.
Israel/Palestine: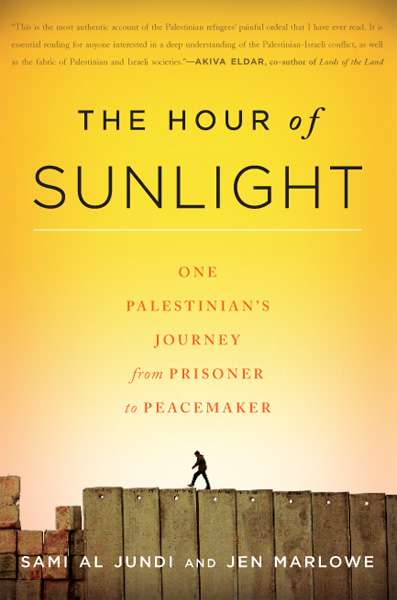 Jen first discovered the power of art as a tool of activism while doing peace and justice work in Palestine and Israel. Jen's book The Hour of Sunlight, is co-authored with Sami Al Jundi, a Palestinian man from the Old City of Jerusalem who spent ten years in Israeli prison for militant activities and who has spent the last two decades of his life working towards nonviolence and peaceful reconciliation between Israelis and Palestinians.
Jen is also the playwright of There is a Field, a play about the life and death of Aseel Asleh, a Palestinian-Israeli teenager who was shot point blank in neck by Israeli police at a demonstration in the year 2000. In 2011 Jen created the award-winning short film One Family in Gaza about the Awajah family. Palestinians in Gaza are depicted either as violent terrorists or as helpless victims. The Awajah family challenges both portrayals. Through one family's story, the larger tragedy of Gaza is exposed, and the courage and resilience of its people shines through.
Sudan: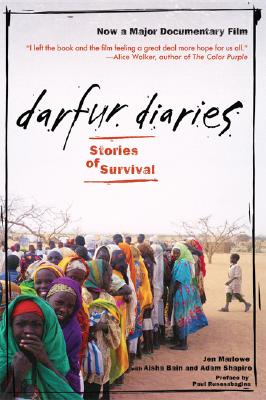 As part of a three-person team, Jen traveled to Sudan and Chad to make the documentary film Darfur Diaries: Message from Home. Jen's second feature-length award-winning documentary is called Rebuilding Hope, and follows three Lost Boys on their first homecoming to Sudan. Jen will bring the audience up to date on the individual stories and the current situation in Sudan. South Sudan became an independent state on 9 July 2011, but human rights abuses and widespread hunger continue to make this a volatile region.
Death Row:
Jen worked to prevent the execution of Troy Davis, a man who was executed by the state of Georgia on September 21, 2011 despite a compelling case of innocence. She is the co-director of A Life in the Balance: Examining the Troy Davis Case, a four-part video series for Amnesty International. Her third book, I Am Troy Davis, written with Troy's sister Martina Davis-Correia, will be published on September 21, 2013,  the two year anniversary of Troy's execution. It tells, from Martina's perspective, the story of her joint struggle for her brother's life and her own life (after she was diagnosed with breast cancer).
The Response
"Jen Marlowe brought a refreshing activist view of the current political struggle in Bahrain to the forefront of students' minds. Her capturing firsthand experience has the ability to bring awareness to a heavy topic."
Tatiana Tuccio
Campus Awareness of Multicultural Opportunities Chair
Gonzaga University
"Jen Marlowe is a speaker with genuine heart. She spoke as a keynote for our annual Dr. Martin Luther King commemoration event and primed our audience for continued social action locally, nationally, and globally. We were thrilled with her thoughtful words and multiple appearances during her residency. She was truly a partner in the event planning process and actively sought to make her contributions as tailored to our needs as possible."
Kimberly Irland
Director of Campus Life
Jamestown Campus & North County Extension Center
"Jen Marlowe's visit to Buena Vista University was a huge success.  Not only was Jen flexible in talking to and working with a variety of campus constituencies while she was here, but she was as able to captivate them all, from a large crowd of hundreds to luncheons of five.  The compassion and inspiration she brings along with her expertise energized our students and our campus."
Jamii Claiborne
Assistant Professor of Digital Media
Buena Vista University
"Jen Marlowe presented at our graduate student conference at Florida International University in March 2012. The audience was large but she captivated the group from the first moment when she described the first time she really asked herself, in the face of terrible tragedy far away, "What can I do?". This set the stage for a moving and inspiring account of her work that called on students to ask themselves that very same question. During the presentation Jen masterfully drew connections between conflicts in Darfur and Palestine and to the  execution, in the US, of Troy Davis. She did so by recalling intimate stories and captured moments of devastation and love, of resilience and struggle. Through photography, recordings of voices and powerful film material Jen wove together stories of injustice, oppression and violence but also of peace, solidarity and hope. In our post-talk reflection students spoke about the powerful nature of her work, how inspired they felt to connect with the injustices they see around them, and how connected they felt afterwards to the people and places Jen spoke of and that had once seemed so distant to them. And, though the material is very sensitive, troubling and raises many important issues, Jen is a wonderful presence, facilitating challenging questions, discussion and debate in a way that opens up space for dialog."
Caroline Faria
Department of Global and Sociocultural Studies
Florida International University
"Jen Marlowe combines the passion of an activist, the keen eye of a journalist, and the skill of a master storyteller."
Barron Boyd
Interim Dean of Arts and Sciences
Le Moyne College
"Jen Marlowe's visit to Nichols College was an inspiration to many of our students. She was called 'passionate,' 'inspirational,' and 'engaging.' One student wrote 'This has been the most eye-opening program I have ever been to. It makes me want to do something to help Darfur and Pakistan instead of sitting back and caring about just myself.' Jen provided excellent background information, great visuals, dedication to her cause and a high level of professionalism. We would love to have her return in the future."
Blanche Milligan
Director, Fischer Policy and Cultural Institute
Nichols College
"Jen Marlowe captivated an audience of over 1,200 faculty and students with her talk on 'art as activism.' Her message inspired students to think about ways that they could make a difference in the lives of others both within their own communities and the world at large. Jen is an engaging speaker with a powerful and irresistible message."
Laura Rossi-Le
Dean of the Undergraduate College
Endicott College
"At the 2008 President's Forum on International Human Rights: Modern Genocides and Global Responsibility, Jen Marlowe [...] provided our students with enormous insight into the human rights abuses that continue to occur in Sudan. Her visit offered a glimpse into the kind of social justice work that truly makes a difference on the planet. Without question, our community benefited tremendously from her lecture and we hope that she will be able to return in the near future."
Perrin Reid, M.A., J.D.
Director, Office of Equity and Diversity
California State University, Long Beach