Say This, Not That to Your Professor
Two people have control over your success in any college class: you and your college professor.
In classrooms around the country, as professors teach quantum physics, Russian literature, and Western civilization, they rarely teach students the most important lesson of all:
"The way you behave and communicate with me can affect your success in this course and in college."
As a 10+ year faculty member in Communication Studies, Ellen Bremen, also known as 'The Chatty Professor', is repeatedly surprised that students don't have the tools they need to interact constructively with their instructors, whether about simple class-related mishaps or more complicated academic situations.
In this talk/workshop Ellen Bremen starts out with a list of common blunders, then offers students a "do-over": improved phrases and statements they can immediately use to handle late work, absences, extra credit and poor grades. Students will receive insider tips about how professors teach, grade, and react to student communication and behavior. Students will learn about their rights and options, and how to exercise them respectfully and effectively. Ultimately, students will receive vital communication tools. The outcome? Better student-prof relationships, improved grades, and confident and competent communication skills for college and beyond. Then, students can transition this sought-after skill to their professional and personal lives.
Additional topics for high school audiences:
Two Phone Calls to Make Before You Enter College and One to Make While You're There
Did you know that two calls can help you reach your goals before you ever set foot on campus? And, if you're planning on an advanced degree, one call during your undergrad program can propel you ahead. Learn who will be on the other end of the line… and what to say.
What to Say To Get A Great Recommendation Letter (Even if You're Not an "A" Student)
How do you start the conversation and ask for those college recommendation letters? This presentation will give you five simple steps, from who to select, when to ask, and how to make the request.
Two-Minute College Prep Conversations for Parents
You had a cuddly baby. Now you have a college freshman… and you are dying to give that freshman some advice. But will they actually listen? Here are a dozen casual conversations that you can start with your child as they leap into higher education. Among the tips you'll receive: Who your kid should "bug" on campus, who they should leave alone, e-mail tips, and how they can tell if their college is the right fit.
About Ellen Bremen: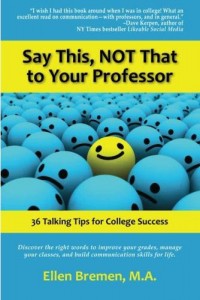 Ellen Bremen is tenured faculty in the Communication Studies department at Highline Community College outside of Seattle, Washington.  With 14 years of teaching experience in university and community college settings, Ellen has earned teaching awards and commendations for teaching innovation, 'best practices', and online teaching from the Sloan Consortium, National Institute for Staff and Organizational Development, the National Council of Instructional Administrations, the American Association of Community College College Times, and Quality Matters. Ellen is also an award-winning public speaker who, in 2007, became one of only four Washington State certified speakers for Monster.com's "Making High School Count" program. Ellen is one of ten competitively selected instructional designers for the Gates Foundation's Open Course Library Grant in 2010-2011 (recently featured in Newsweek). Ellen's Book 'Say This, NOT That to Your Professor: 36 Talking Tips for College Success' was published in April 2012.
The Response
"Ellen provided our conference with a high energy keynote address. Students were inspired to use the new knowledge they learned during the session"
Claire Korschinowski
President, Council of Unions and Student Programs (CUSP) for WA State
"Ellen captures the attention of her audience and relates to listeners. She is the speaker who can be heard in all parts of the room. Her intonation as she tells her story conveys not only her message, but also excitement about her career. She inspires by the opportunity she has had to follow her dreams."
Liz Peterson Word
UW College of Education
Office of Minority Recruitment & Retention
"Ellen expertly connects with and holds the attention of high school students. She puts them at ease, while conveying her authority on the topic, whether it is public speaking techniques or ways to approach instructors. My students continue to talk about what they learned from Ellen long after her visit."
Jessica Towbin
National Board Certified Language Arts/Social Studies Teacher
Highline District Health Sciences and Human Services High School
"Professor Ellen Bremen has a unique ability to build a deeply personal connection with her audience, both intellectually and emotionally.  She is that rare speaker who seems like, in spite of all the other people in the audience, she's speaking directly to you. As a non-traditional student, I was especially impressed with her ability to reach younger students in her class.  Her respectful, confident manner, coupled with appropriate self-disclosure, made the buy-in to her concepts an easy choice for all students, young and old."
Don Crawley, author of The Accidental Administrator series
and co-author of The Compassionate Geek: Mastering Customer Service for I.T. Professionals
"For the last five years, Ellen Bremen has shared her communication skills and techniques with the students at Highline High School. Ellen's presentations are always engaging, relevant and interactive. It is obvious that she enjoys working with young people; she connects with them in an authentic, relaxed manner.  She poses thought-provoking questions that immediately connect students with her content.  From freshmen to seniors, Ellen captivates students."
Nanci Leonard
AVID Elective Teacher, Highline High School
"Students in Ellen Bremen's class are rewarded with a knowledgeable professor and a captivating public speaker at the front of the room. Truly a modern-day professor, she guides her students through the nuances of interpersonal communication, reaching them through her progressive teaching style. Whether teaching her students how to communicate with their professor or how not to express anger, Ellen Bremen inspires learning through witty speech."
Spencer Wright
Student, Highline Community College