Exploring Intersecting Identities Through Story
Eliaichi Kimaro initially went to Tanzania to document her family's stories and her father's tribal culture. But when she sat down with her Aunts, she unearthed stories about surviving violence that her Aunts never even shared with each other. By simply bearing witness to her aunts' truth-telling, Kimaro catalyzed a healing process within her family and her community. The dialogue that began in a hut on Mt Kilimanjaro evolved into a documentary that is transforming the lives of viewers halfway around the world.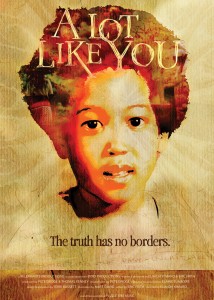 Her film journey is the culmination of a lifetime of personal and professional experience exploring how our culture, race, class, gender, sexual orientation, and trauma inform our understanding of who we are and where we belong. She shares how we can creatively express our identity and belonging, evoke the stories we want to tell, and understand why these stories matter.
As Kimaro says, "For people whose narratives have been marginalized, distorted, or eradicated (immigrants, queer folks, women and girls, indigenous people, people of color, survivors of abuse), we often struggle with believing that we have the right to take up space with our story. But we need to cultivate our voice, because truths that are never spoken can never lead to change. Every time we contribute our own stories, we create a more expansive, inclusive portrait of humanity."
There is something profoundly liberating in seeing aspects of your self and your truth reflected back at you from the page, canvas, or screen. Kimaro shows us the power of understanding and sharing your experiences, and demonstrates how truth telling can be a healing act for individuals and communities.
A LOT LIKE YOU — Official Trailer from alotlikeyou on Vimeo.
The Response
"Eli Kimaro's lecture was among the most inspiring and meaningful lectures I've attended all year. Through her words, Eli is able to encompass themes of race, gender, and cultural identity, self-exploration and fulfillment, in a way that is genuine and universally accessible. Eli's story is one that inspires me to explore and embrace my own complexities, and I will never forget her words."
Jacinta Lomba
Brown Center for Student of Color
Brown University

"Thank you so much for generously making the time to share your film with our eighth graders.  All of us appreciated the opportunity to learn from your experience–both of making the film and your own personal journey. Personally, I felt a deep connection with your work.  Viewing the film a second time was a treat; it has so many layers–one viewing is not nearly enough to fully process it.  You left us with the perfect message as we embark on our own memoir unit: The more personal the story, the more universal it is. Thank you for that."
Eva McGough
Language Arts Teacher
Lake Washington Girls Middle School
"Eli's film, her experience, and its relevance to our students, was the highlight of our leadership conference, judging by the students lined up to talk to her afterwards. She unpacks culture and personal narrative, with all their complexity, in a most respectful, yet approachable and humanizing way. The lessons she shared about her own life's journey and making A Lot Like You served as inspiration for students' who are striving to unfold their own stories in ways that matter."
Pete Erschen
Assistant Director, Student Activities & Multicultural Interests
Pacific University
"Eli Kimaro is a pleasure to bring to campus. She is easy-going, punctual, and adaptable. Eli brings her authentic self to every event and creates a special experience for the audience. If you are looking to create meaningful conversations with students about identity and culture, Eli Kimaro is a great choice."
Stefanie Smith
Coordinator for Program Development
Center for Intercultural Programs
DePaul University
"A Lot Like You raised so many important questions and provided such critical insight into how interconnected our experiences of race, class, gender, trauma and sexuality can be in forming our cultural identity. I immediately wanted to figure out a way for my graduate social work students to engage with this powerful film."
Nancy Shore
Professor Social Work
University of New England

"(This) moving film takes us back to her father's family in Tanzania and confronts the realities of colonization, revolution, globalization, family violence, mixed identities, trans-national families, and reclaiming roots in a complex manner. Ellie is able to bring out all of the complexity and hold it in a warm space for us as she takes us on her journey of discovery of global questions that have personal answers."
Charles Shealey
Council for Students of Color
Smith College
"Eli shared her truth with us so authentically that I know she inspired students in the audience to boldly stand behind their own truth.  Her presentation, delivered thoughtfully and lovingly, shed a light on cultural identity and gender violence.  Eli is a master story-teller who has found a unique way to share her important story.  We were all enriched by our short time with her.  Thank you for the gift of you!"
Joann Bautti, MPA, Assistant Director, Women's Center
Old Dominion University
"Eli Kimaro presents a poignant and honest account of her real life experience of seeking connection to her extended family and culture, of coming face to face with the violence and trauma that she, the women in her family and women across the globe experienced that changed their lives forever and continues to impact them today."
Buu Thai, Program Manager, Reentry Resource Center
County of Santa Clara
"A LOT LIKE YOU takes us on a personal journey into the most vulnerable corners of a family history spanning generations and continents. This layered documentary starts with a familiar exploration of mixed-race identity as the narrator searches for her roots, but brings the discussion to surprising levels of personal and political self-awareness. Fresh and inspired, tender and uncommonly smart, A LOT LIKE YOU triumphs as an exemplary work of first-person documentary for the 21st century."
Jury Statement, Winner, Best Documentary
30th San Francisco International Asian American Film Festival
"Eli Kimaro has made a luminous and thoughtful film. It is a fascinating and moving exploration of how the stories we tell (and perhaps most importantly, the stories we don't tell) shape our sense of our histories and identities, and how we choose to pass our stories on to our children and why.
Ms. Kimaro allows us to travel with her as she seeks to create an ―authentic‖ record of her father's people for her daughter. We see how her journey leads to uncovering a piece of the family story that had never been spoken in her family before, and how this revelation results in her profound and courageous decision to reveal the truth of her own life in new ways.
Hearing these previously untold stories leads Kimaro and her audience to rethink the meaning and complexity of all that has come before; and to understand how her (and our) truth connects her (and us) to the women of her family in a way that transcends generations, cultures and distances. In doing so, this film provocatively reminds us of both the power of story telling and of speaking that which has been unspoken."
Margaret Hobart, Ph.D., Washington State Coalition Against Domestic Violence
"This documentary is so powerful and so meaningful. Not only does it get to the core of fundamental issues that we see in this world, it is so sincere and real/raw. Amazing… It has the conversation between generations, across cultures, and ultimately, portrays the individual truths (and not just yours, but your aunts' as well). It has a conversation about identity, relationships, racism, sexism, violence and more. I simply cannot imagine a better way for this film to have turned out…"
Ankita Patel, Esq.
"A Lot Like You highlights generational abuse, the impact of unspoken trauma on the ongoing cycles of trauma – how it shapes generations – and what it means to be in relationship with family and culture who have engaged in,or been complicit in,that trauma. Eliaichi does a beautiful job of not wrapping things up neatly and showing the complexity of loving people through pain, secrets and differences.
Of course additionally, it's a beautiful piece about identity, history, contradiction, and migration…"
Vassilisa Johri, MSW
"My first reaction is that it's very compelling material, a really emblematic postcolonial, post-globalization, and postmodern story that is timely in each of these ways.
I particularly liked the way in which A Lot Like You personalizes the emergent tension between cultural relativist or postcolonial sensibilities on the one hand and the notion of universal human rights on the other. This is one of the defining questions of our time: how do we embrace/embody the values of the various declarations on human rights without re-engaging in modernist or colonial projects? It's a fraught problem for a time of global cultural diffusion and awareness."
Aron Hsiao, PhD Candidate, Managing Editor, International Journal of Politics, Culture, and Society
"Eli Kimaro's appearance at Holton was engaging and riveting. Kimaro emotionally stretched out to the audience and connected her own personal story with the audience in a profound and poignant manner. Her vulnerability to tell the story of her shocking family history shined a light on our own vulnerabilities and made us realize that no matter the story— that our own story should always be told."
Amanda Hewitt, Director of Alumnae at Holton-Arms School