Geomorphologist, Environmental Author
Prof. David Montgomery really likes dirt.
He explores what the Earth's soil tells us about our health, our history and our future.
The Hidden Half of Nature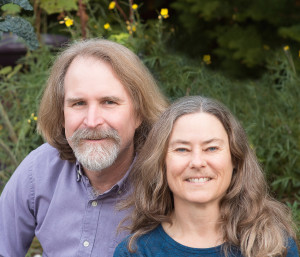 When David Montgomery and Anne Biklé decided to create a garden in their barren yard, dead dirt threatened their dream. They fed their soil a steady diet of organic matter and in short order, the much-misunderstood microbes transformed their bleak yard into a flourishing Eden.
They were then forced to confront another community of microbes – those inside Anne's gut, when she was diagnosed with cancer. The authors of The Hidden Half of Nature: The Microbial Roots of Life and Death discovered startling insights into the similarities between plant roots and the human gut. We are not what we eat. We are all―for better or worse―the product of what our microbes eat. Good health—for people and plants—depends on Earth's smallest creatures. Cultivating beneficial microbes can rebuild soil fertility and help turn back the modern plague of chronic diseases.
Dirt: The Erosion of Civilizations
Montgomery is the author of Dirt: The Erosion of Civilizations, which argues that soil erosion is a threat to our planet as serious as climate change.
Once bare of protective vegetation and exposed to wind and rain through agriculture, cultivated soils erode faster than they can be naturally replenished. The erosion is slow enough to be ignored in a single lifetime but fast enough over centuries to limit the lifespan of civilizations.
In this engaging talk, Montgomery traces the role of soil use and abuse in the history of societies, from Mesopotamia to European colonialism and the American push westward.  He explores how soil has shaped us and we have shaped soil.
Professor Montgomery's research and ideas were recently highlighted in the Lancaster Farming: A Farmers Choice newspaper, the  leading Northeast and Mid-Atlantic farm newspaper. You can read the article, Slowing Erosion Could Sustain Civilization by John Kelley, here.
About Prof. Montgomery:
David R. Montgomery is a professor of Earth and Space Sciences at the University of Washington, studying geomorphology, the evolution of landscapes. In 2008 he received a MacArthur 'genius' award for his "fundamental contributions to our understanding of the geophysical forces that determine landscape evolution and of how our use of soils and rivers has shaped civilizations past and present". He has received two Washington State Book awards, one for King of Fish: The Thousand-Year Run of Salmon in 2004, and for Dirt: The Erosion of Civilizations in 2008.
About Anne Biklé:
Anne Biklé is a biologist with wide-ranging interests that have led her into watershed restoration, environmental planning, and public health. An invited speaker at universities and national conferences, she has also worked extensively with community groups and non-profit organizations on environmental stewardship and urban livibility projects. The Hidden Half of Nature is her first book.
The Response
"Dr. Montgomery's lecture was able to touch upon issues that are not only pertinent but relative to our environment and community. The students and staff present were extremely impressed with his lecture–wrapping Sustainability, Geology, Anthropology, Ecology, History and Agriculture into one compelling and easy to understand lecture is an incredible feat!  I highly recommend Dr. Montgomery for an incredibly in-depth and comprehensive talk for anyone!"
Kat Kaszpurenko
Union Programming Coordinator
Fort Lewis College
"David's talk presented a deeply well reasoned explanation of how topsoil has affected human civilizations and how it will determine our future. Judging by the collection of conversations afterwards, he clearly got the audience thinking and sparked a valuable interdisciplinary dialogue at University of British Columbia."
Justin Ritchie
AMS Sustainability Coordinator
University of British Columbia
"Thanks for a fabulous lecture! Dave Montgomery is a rare breed of public speaker, who can engage a diverse audience at all levels and from multiple disciplines, with passion and wit."
Candice Goucher
Professor of History
Washington State University Vancouver
"Horticulture Nova Scotia represents a small province, but agriculture is a large part of  its rural economy. In mounting our annual Congress on the single topic of soil, we wanted to have a keynote speaker who would not only show the big picture on the importance of  handling soil in agricultural communities, but someone who could speak our farmer's language. We were very privileged to have Dr. Montgomery. We often hear our farmers complain that speakers only know how to speak to other scientists. There was no such opinion voiced for Dr. Montgomery. There was nothing but praise on his down to earth (no pun intended) approach and the big bonus was that they really got what he was saying.  There was much discussion over lunch that day. Also appreciated was the fact that he took the time to interact with participants at a book signing after the presentation.  Please extend my heartfelt thanks to Dr. Montgomery for taking the time to care about a small section of our country."
Donna Crawford
Administrative Coordinator
Horticulture Nova Scotia
"With a scientist's rigor, a historian's curiosity and an environmentalist's passion, Montgomery is unsettling accepted wisdom about both local and global environmental change by exploring the ecological consequences of a wide range of Earth surface processes."
2008 MacArthur Foundation 'Genius' Award statement