Creating A Culture of Belonging
Principles For Every Leader
Strong cultures help people support one another, share their passions, and achieve big goals. And such communities aren't just happy accidents – they can be purposefully cultivated, whether they're in a company, a faith institution, or among friends and enthusiasts.
But what makes a belonging culture? How is community changing in America? Author and executive consultant Charles Vogl discusses these questions and introduces fundamental ideas from his book, "The Art of Community". With wisdom distilled from 3,000 years of spiritual tradition, Vogl will help leaders build loyalty, strengthen identity, and create meaning within their culture.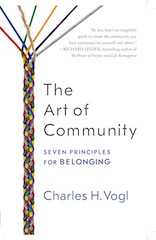 Vogl will lay out the inner workings of successful communities and how they work drawing on real-life examples from both online and in-person groups. Participants will discuss how to apply the fundamental principles to their specific situation and realize their community's aspirations, noticing the current inspiration and commitment, and naming principles that can be used to strengthen their real world communities. Leaders will leave with concrete next steps to create stronger belonging for themselves and others whom they want to bring together for enrichment.
Storytelling for Leadership: The essential skill to create influence
Whether directing a movement of millions or building an intimate team, as a leader, you need to communicate who you are and why your work matters powerfully and quickly. In this multimedia workshop, participants will learn core skills to move others emotionally and persuade them in order to be memorable and effective in high stakes conversations. Learn why TED talks are fascinating, how Hollywood draws from millennia-old story principles, and why stories are the key to becoming unforgettable and creating connection.
Creating Authentic Connection Quickly: Move and inspire others no matter where you are
Leaders have limited time to make emotional connections with the people who matter. Do you know how best to use your time to connect with those people important to your vision, goals or life?  Most people just make it up and hope that something will work.
About The Speaker
Charles Vogl works with leaders in tech, finance, media, government and social change organizations to make them more effective in creating change. This work includes helping leaders strengthen critical relationships and inspire communities to action. He draws from the realm of spiritual traditions to understand how individuals build loyalty, strengthen identification with a community, and motivate actions consistent with group values. Charles' experiences include international human rights advocacy, social change leadership and internationally awarded nonfiction media. He studied business management and spiritual traditions at Yale University. His book, The Art of Community: Seven Principles for Belonging, will be released by Berrett-Koehler Publishers in September 2016.
The Response
"Your lecture at the Yale School of Management was without a doubt truly inspiring and an essential workshop for public speaking. It would truly be an honor if you could be with us again, helping us encourage another generation of storytellers."
Maria Posada-Toro
Yale MBA
"I was delighted by Charles's generosity and ideas. He used his experience to help my team plan a breakthrough set of conversations for stakeholders in personalized medicine."
Kip Bergstrom
Deputy Commissioner, State of Connecticut
Department of Economic & Community Development
"I thought Charles' presentation was terrific. I think of and try to employ the 7 elements of great storytelling all the time in both my personal and professional endeavors. Charles offers his own stories and those of others (Ted Talks, etc.) as poignant examples that really serve to bring the elements to life and resonate with the audience. I would have enjoyed having more time with Charles where we could have explored the use of storytelling in a variety of professional settings – sales, presentations, etc."
Michael O'Hanlon
VP, Business Development
Wayfair
"You changed my fricking LIFE. Thank you for your courage and willingness to speak your truth, and the AWESOME presentation which landed the power of story in a way that will transform many many people's lives and through me! The insights keep unfolding."
Harry Pickens
Ambassador For Artistry In Education, Berklee College of Music
"My team loved the session; they were wow-ed! At times, we become so very close to the work that we forget how to share the passion and purpose of what we do with newcomers. You helped us define the apparent cause when we were at a loss for words. By re-lighting the room, you helped us find our words so that we might articulate the richness of our everyday work. I am incredibly indebted- you have distinct gifts."
Nancy Yao Maasbach
Executive Director, Yale-China Association