Islamophobia & Guantanamo Bay
Former U.S. Army Muslim Chaplain James Yee has experienced religious discrimination first hand. He first saw it as a Muslim chaplain stationed at the Guantanamo detention center, where he observed religious abuses against the prisoners. After objecting to the abuses, he was accused of being a spy himself. Now, with his name cleared, James Yee fights the prejudices that lead to hate crimes and the violation of constitutional rights of American Muslims in our society.
Islamophobia: An irrational fear and hostility towards Islam and Muslims
The September 11th attacks, the "War on Terror," the furor over the Park51 Community Center in Lower Manhattan (AKA the Ground Zero Mosque) and high profile violence in Afghanistan and Iraq and other recent events have elevated prejudice against Muslims and led to discrimination, profiling, hate crimes, and violation of constitutional rights.
The backlash has sometimes taken the form of vandalism, assault and homicide, but also includes more insidious smear tactics. Negative attitudes against Islam and Muslims were even evident in the 2008 presidential election campaign as political pundits, media and others characterized Barack Obama as a Muslim in disguise. The fear and hostility towards this "other" in our country is real and widespread.
In this lecture, Captain James Yee, a graduate of West Point and former US Army Chaplain, explores present day Islamophobia as it relates to the social, legal and national security conscious climate of our time. Yee draws on his unique experience as the former Muslim Chaplain at Guantanamo Bay, an American-born Muslim convert, and an elected National Delegate for Barack Obama, to provide a captivating view of the challenges faced by everyday Muslims in our nation. Clarifying the many misconceptions about Islam and Muslims, he provokes reflection on our American values, especially those of diversity, religious freedom, tolerance and justice.
Guantanamo Bay: Ten Years On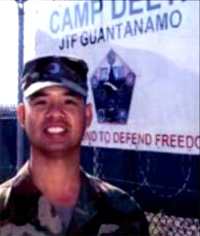 Fourteen years have passed since the opening of the Guatanamo Bay detention center in Cuba. In this lecture James focuses on his own experience at the camp and brings the audience up to speed on the current situation. While ministering to prisoners at Guantanamo Bay, Captain Yee advised the commanders of the camp on detainee religious practices and objected to the cruel and degrading abuses to which the prisoners were subjected. After being officially recognized twice for outstanding performance, Captain Yee was arrested and imprisoned in a Naval brig in solitary confinement for 76 days in September 2003, falsely accused of spying, espionage, and aiding the alleged Taliban and Al-Qaeda prisoners. All criminal charges were dropped, after months of government investigation. With his record wiped clean, Chaplain Yee was reinstated to full duty at Fort Lewis, Washington. He tendered his resignation from the US Army and received an Honorable Discharge on January 7, 2005. Upon separation he was awarded a second Army Commendation medal for 'exceptionally meritorious service'.
Chaplain Yee's gripping account of his experience and struggle for justice is titled For God and Country: Faith and Patriotism Under Fire (2005).  The Washington Post called it "required reading for all U.S. Officials waging war on Islamist terrorists." For this work, Yee received the Exceptional Communicator Award from New America Media in January 2006.  Chaplain Yee is also the former Executive Director of CAIR, Council on American-Islamic Relations, New Jersey chapter.
The Response
"Captain James Yee was very inspirational, dynamic, and humble. He spoke with great conviction about his experiences and what we as students can do to make a difference in the world. His speech was relatable and powerful — It was almost as if we were with him during traumatic and triumphant times in his life. I really appreciated his story and passion for change. I would not ask for a better speaker."
William Ibekwe
AS Programming Board
University of California Riverside
"James Yee is a compelling speaker who must be heard. He speaks from personal experience about standing up to the most powerful military on earth, in defense of the oppressed prisoners at Guantanamo Bay, and how he persevered through the U.S. government's backlash. James Yee is a patriotic whistleblower with a story to tell."
Amy Goodman
Democracy Now!
"James Yee is an informative, engaging speaker who is able to talk about these complex issues in human terms. He is especially effective with students, and is able to challenge them while treating them with kindness and respect. I highly recommend him as a guest speaker."
Robin Kirk
Author and Director
Duke Human Rights Center
"Captain James Yee was a riveting speaker at the Annual Dinner of the Asian American Bar Association of the Greater Bay Area. His personal story of what happens when our government denies civil liberties in name of national security is chilling and should be a lesson to all Americans."
David Chiu
President
Asian American Bar Association of the Greater Bay Area
"James Yee is an extremely energetic, articulate, organized speaker who has an extremely important message to convey."
Almerindo Ojeda
Director
UC Davis Center for the Study of Human Rights in the Americas
"We were privileged to host Chaplain Yee during his visit to our campus. Chaplain Yee took us through a journey of honor, courage and faith as he narrated his personal endeavor when he was falsely accused. He also shared his experience in Guantanamo Bay and presented to us what individuals there were and are going through.  We learned from Chaplain Yee that justice can be born with awareness and hope."
Zaid Balushi
President, Muslim Students' Association
The Pennsylvania State University
"James Yee represents the kind of courage, compassion, and caring that this nation should be known for throughout the world. He is one of the most patriotic voices to emerge in the last decade and as an Asian American, I am so very happy that his is a voice that is emerging."
Angela E. Oh
Private Attorney and Lecturer at UCLA
"I had the benefit of hearing [James Yee] as a keynote speaker for the OCA Greater Philadelphia Lunar New Year Banquet and as a panelist at the NAPABA convention. He came across as knowledgeable, articulate, and highly persuasive. With all the calls to shut down the Guantanamo detention center, Chaplain Yee's unique personal experience adds much light to the debate, regardless of your persuasion."
Tsiwen Law
NAPABA civil rights committee chairman
"James Yee has important story to tell both about being a Muslim chaplain in the U.S. army and about being a prisoner at Guantanamo. At a time where there is a great deal of interest in U.S.-sponsored torture and cruel, inhuman and degrading treatment, Chaplain Yee provides his listeners with an important portrayal of his personal experiences in a prison where habeas corpus is not assured and detainees are not provided the protections of Common Article 3 of the Geneva Conventions. I urge audiences across the country to hear Chaplain Yee's message."
Rev. Richard Killmer
Program Director
Churches' Center for Theology and Public Policy
About the Book
"A searing indictment of justice gone awry and unchecked, systemic, ignorance, Yee's story is sure to stimulate its share of discussion on a volatile subject at a crucial time."
Publishers Weekly
"…should be required reading for all U.S. officials waging war on Islamist terrorists. For God and Country is an indictment of the sloppy assumptions and religious and cultural blindness that he charges U.S. officials frequently reveal in their struggle with the jihadists."
Washington Post
"This is a powerful book that exposes how fear and ignorance can lead to an abuse of justice."
Associated Press