Imagine What You Can Do
The Power of Citizen Journalism
Amanda Koster is an internationally acclaimed photographer with a passion for finding and sharing stories of real people, human rights, cultural diversity and global equality. She asks you to 'Imagine What You Can Do' with the tools at your disposal to make a difference in peoples' lives. Social media has given individuals the power to get their voices heard and create real change. In her inspirational talk, Amanda shares examples of amazing projects she discovered in developing countries and the essays, videos, photography, and fund-raising that she helps facilitate.

Amanda founded a company, SalaamGarage, for citizen journalists and amateur and professional storytellers. SalaamGarage has led trips to India, Vietnam, Guatemala, and Ethiopia, in each location partnering with NGOs in order to connect directly to the individuals they serve. They've worked with a fistula hospital in Ethiopia and a landmine-removal organization in Vietnam, among others, and have recently started working with US-based organizations.
Amanda details the birth of her organization, stresses the importance of one-on-one connection, and profiles the projects undertaken so far. She then challenges audience members to create their own projects and get them out there using social media and other resources at their disposal.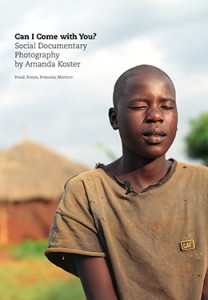 Her book "Can I Come with You?" (Bennett & Hastings, 2008) is a collection of over a decade of her international social documentary projects, including excerpts from her personal journals. She has received many awards and grants for her personal projects including the prestigious IPA Lucie Awards. Amanda is featured among the fifty successful inspiring American women in the book: "In Their Shoes" (by Deborah Reber, Simon & Schuster).
Amanda Koster's clients include The Bill and Melinda Gates Foundation, Int'l YWCA, The New York Times, Newsweek, Entrepreneur, The Wall Street Journal, Fast Company, Business Week, and national advertising agencies. She has taught photography internationally and is invited regularly as an industry speaker and representative worldwide. Amanda has spoken at TEDx Seattle, Web 2.0, SxSW, Gnomedex, Microsoft and several universities around the country.
Artist-in-Residency:
In addition to her Citizen Journalism lecture, Amanda Koster is available for an Artist-in-Residency program where she will run a workshop that explores storytelling in photography, give a critique of students' work and offer her photos for a digital exhibition event. For an experience more rooted in her SalaamGarage mission, she can tailor the residency to include a SalaamGarage assignment for the students where they will be asked to partner with local non-profits.
The Response
"Amanda was the keynote speaker at our 2009 digital storytelling showcase, where she not only highlighted her fantastic work through SalaamGarage, but also nourished the enthusiasm of students with her presentation about photography as personal expression and articulation of social concerns. Students raved about her book, her presentation, and the opportunity to have Amanda review their digital projects. Amanda was a fantastic and delightful presenter, I wish we had her as artist-in-residence!"
Nathaniel Cordova, Associate Professor, and Chair, of Rhetoric and Media Studies at Willamette University
"I'm a believer in finding people who let their passions speak for themselves, and with Amanda – there was no agenda other than sharing a story and allowing people to experience life through her eyes, vicariously. Amanda changes lives with her actions, not just words – and that clearly sets her apart from many others."
Chris Pirillo, Founder and CEO of Gnomedex
"About once a month, I host a dinner party for tech leaders/startup founders/business people here in Seattle. I had heard Amanda speak at Gnomedex, and was inspired to invite her to share her story and her vision with my friends. Her talk and photos were outstanding. I would unconditionally recommend her to any audience who cares about our world and the people in it. Amanda sees the world as how it should be and shares that vision in her work"
Buzz Bruggeman, founder Tertulia
"I wanted Amanda to come speak so that my students could see firsthand her passion as a photographer and storyteller. It was also great for my students to see that she got her initial photo experience from a typical college darkroom similar to theirs at Bellevue College. Her talk coincided with a final project I gave to my students which was to tell a story through photographs. I got some very interesting results and I think students realized that every story no matter how small or personal is worth telling. My students liked her analogy of a "drive-by shooting" and became more empathetic about the experience of the people or subjects they decide to photograph. Amanda is a clear and direct speaker/photographer with a conscience. In today's world, that is a very valuable trait. I want to go on a SalaamGarage trip!"
Ginny Banks, Adjunct photography instructor: Bellevue Community College
"We were intrigued by the fact that Amanda brought social responsibility to social media, and wanted to learn more. Once she took on the stage, we were amazed by the stories we heard accompanied by the pictures she had taken during her trips. Amanda's talk went well and the audiences response was quite positive. I'd invite her again to speak in a heartbeat!"
Maryam Ghaemmaghami Scoble, Curator: Gnomedex 8.0